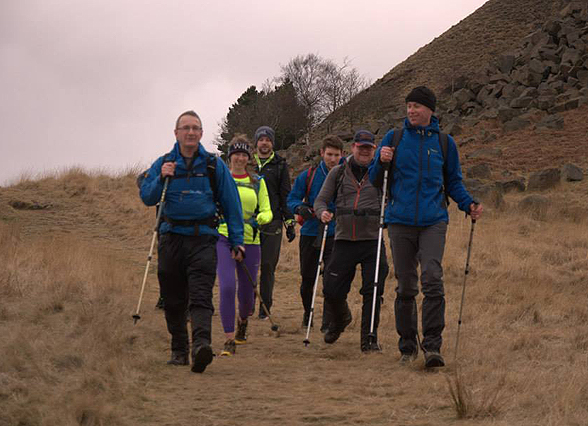 Jackson Purdue Lever would like to say a big congratulations to Rob Morley, our Project Engineer, and the 1st Belper Scout Leaders team for completing the Derbyshire Scouts Four Inns challenge! On the 21st March this year Rob and the 1st Belper Scout Leaders successfully completed a 65km (40 mile) walk over some of the roughest moorland in Britain and passing the four Inns; The Isle of Skye (site of), the Snake Pass Inn, the Nags Head and the Cat and Fiddle, which the tough challenge is aptly named after. The route has also recently featured on BBC's Countryfile.
The Four Inns Challenge Celebrates its 58th Birthday
The premier Derbyshire Scout organised long distance event was originally established in 1957 by members of the 51st Derby (St Lukes) California Rover crew and remains today held in the upmost high regard by all competitors, with a staggering turnout this year of 80 teams made up of 300 competitors! Rob and his team members Jon Rice & Leigh Selway successfully completed the 65Km course in an amazing time of 16 hours and 20 minutes, beating their previous years' time by an incredible 2 hours.
Looking forward to more exciting challenges ahead
Rob Morley – "My involvement in the Four Inns came after many years of Scouting in Derbyshire, watching the event from a far and finally being convinced by my Scout friends to take part and having done the Four Inns for last couple years, I would recommend the event to anyone looking for an outdoor challenge! The volunteers and teams are all very friendly and it's an 'enjoyable' and challenging day. I would personally like to congratulate all the teams who took part in the 65km walk and also the 16-18 years old who took part in the 35km walk, particularly some of my own Scouts. I look forward to taking part in the event again next year, and hopefully improving on my time!"
When Rob isn't busy being a Project Engineer he is a an Assistant District Commissioner for Scouts in the Belper District and therefore would also like to add '"We are always looking for enthusiastic adults and if you are considering volunteering check out http://scouts.org.uk/get-involved/ or feel free to contact me direct."
Well Done Rob and everyone who took part!!!
For further information about the event and the date for next year's event, if you think you're up for the challenge, can be found at the link below! http://www.derbyshirescouts.org/fourinns/